COMPANY PROFILE
N5 Pictures Inc. is an Ontario based digital content creation company established in 2003.
Specializing in feature films, documentaries, and interactive web content N5P has earned an international reputation working with clients from around the world.
The company's first production was the award winning documentary feature Redline which won the "Best Documentary Feature" Award in 2003 at the Long Island, New York Film Festival.  N5 Pictures was able to successfully commercialize Redline by securing U.S. distribution through Frontier Films.
In 2004 N5 Pictures began experimenting in the interactive digital media space.  The company  was commissioned to produce a series of interactive online training videos and companion web sites for Rogers Communications.
In late 2006 N5 Pictures created its first web series called 220.  The series was a collection of short films that followed the mystery of a highway patrol officer.   It was distributed on video hosting service Metacafe as a strategy to drive traffic to the company's web site.  As a result the series was selected for Metacafe's Producer Rewards program in which video producers were paid for their original content.
In 2008 N5 Pictures produced Lost Journey a feature film funded by Telefilm Canada that was acquired by acclaimed distributor Mongrel Media.  The film received a  theatrical release in North America, Iran, Turkey, and the UAE.    In Canada the film was sold to TMN / Super Channel and Netflix.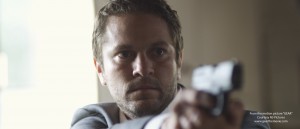 In 2014 N5 Pictures began production on the company's second feature film entitled Gear.  The film stars Tyler Blake Smith The Expanse, Dark Matter and Gregory Hlady X-Men – Days of Future's Past, The Sum of All Fears .  GEAR also received funding from Telefilm Canada and was acquired for worldwide distribution at the 2016 AFM.  The film is slated for a 2017  release.


In 2015 N5 Pictures was awarded production financing from the IPF, Independent Production Fund to produce Petrol The Series Season 1.  The series debuted on February 16th, 2016 to nearly 1.2 million views on the series premiere and has been nominated for several awards at numerous film and web festivals around the world, including to date; Rio WebFest 2016, Oxford Film Festival 2017, and Vancouver Webfest 2017.  The company is currently in development for Season 2 of Petrol The Series.
N5 Pictures has recently been collaborating with an Ontario based animation studio to develop an interactive sci-fi web series entitled The Vault.   The production company currently employees five full-time employees.  Combined our employees have over 15 years of experience in film and interactive digital media content creation.
Press:
Social Media:
Twitter https://twitter.com/n5pictures
Facebook https://www.facebook.com/n5pictures/